New Product Release: Inclinometer Sensors with Digital Display
Level Developments are committed to improving and updating products in line with customer requirements and new applications. To extend our current inclinometer sensor range, we have now launched three new variations of sensor products with a digital display attachment. Previously sold as two separate products, there are now available in one set to allow convenience and quick set up.
With our innovation in sensor technology, we have also updated our SOLAR inclinometer range to improve its accuracy, resolution and sensitivity. The SOLAR-2 inclinometers are range of high-performance low-cost dual axis tilt sensors for measurement of angle in both the pitch and roll axes, with this particular model using a measurement range of ±30°. They have a low temperature drift and are suitable for continuous outdoor use. For a device with a measurement range of ±45°, we also provide the LCH-45 inclinometer, using the same MEMS technology for high performance and accuracy. Both devices come with our mountable PDTS unit – a high-quality, low-cost display unit for displaying angle in both the X and Y axis, as well as tilt-switch functionality. Some of the key features include:
High accuracy, using solid state MEMS sensors
Highly configurable with adjustable thresholds, hysteresis, delay and display resolution
Standardised connectivity using an RS232 interface
USB interface with Windows-based application for monitoring angle and configuration
Simultaneous dual axis LED Display
High contrast with wide viewing angle and adjustable brightness
Programmable alarm function with 2 individually programmable relay outputs
ROHS and CE Compliant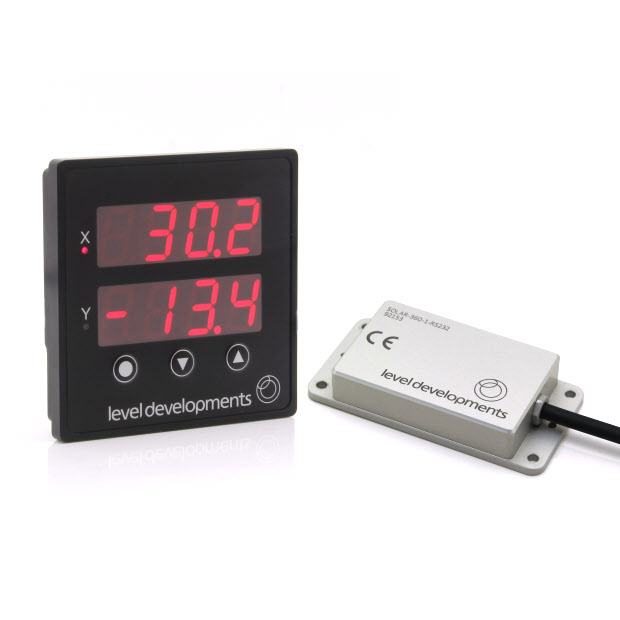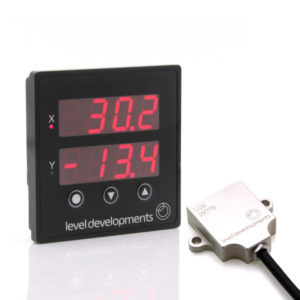 Alongside our PDTS units, we have also launched the SOLAR-2-30 with our IDS display unit. The IDS-SOLAR2 is a dual axis inclinometer sensor with a high-quality, OLED display system for displaying angle in single axis, dual axis and graphical measurement modes. The sensor uses a high-performance MEMS sensor to measure angles in both the pitch and roll axes across a range of ±30°, exhibiting low long-term drift and a wide temperature range. Key feature include:
High resolution & accuracy, using a solid state, high performance MEMS sensor
Highly configurable with adjustable thresholds, hysteresis, delay and display resolution
Easy to set and store zero position, with functionality to freeze readings
Standardised Connectivity using an RS232 interface with control commands
OLED display, high contrast with wide viewing angle
Programmable alarm function with relay output
Absolute and Relative measurement
ROHS and CE Compliant
Visit our product pages to find out more, or contact us to place an order. We also provide OEM solutions based on your requirements if you can't find what you are looking for in our standard product range.