The SUBSEA-2 series inclinometers are specifically designed for installation on underwater structures or equipment & are rated for use up to 500m below sea level. Each unit is fitted with an industry standard male SubConn Micro connector. They are a range of high performance dual axis tilt sensors for measurement of angle in both pitch and roll axes while submerged in sea water. These devices are available with standard measurement range options of ±5°, ±15°, ±30° & ±45. They utilise a very high performance MEMS sensor which exhibits low long term drift. RS232 or RS485 interface options are available with our standard communication protocol, we also offer a multi drop RS485 interface with ModBus communication protocol. They are CE & RoHS certified, & are manufactured, calibrated and tested in our UK factory to guarantee performance to the stated specification.
Features
Dual axis measurement range ±45°
High resolution and accuracy
Designed for subsea & marine applications
Rated for 500m depth below sea
Fitted with a SubConn Micro subsea connector
Low temperature drift
Tough and compact stainless steel housing, 70 x 93 x 27mm
RS232 interface
CE certified and RoHS compliant.
Product Specification
| Parameter | Value | Unit |
| --- | --- | --- |
| Number of Axis: | 2 | - |
| Range | ±45 | ° |
| Resolution | 0.001 | ° |
| Accuracy at 20°C | 0.040 | ° |
| Output Type | RS232 | - |
| Output Format | 38400,8,1,n | - |
| Technology | Precision MEMS | - |
| Maximum Zero Bias Error | 0.020 | ° |
| Long Term Drift | 0.007 | ° |
| Uncompensated Temp Error | 0.0015 | ° / °C |
| Frequency Response | 1 | Hz |
| Maximum Devices On Network | 1 | - |
| Parameter | Value | Unit |
| --- | --- | --- |
| Supply Voltage (min) | 9 | V |
| Supply Voltage (max) | 30 | V |
| Supply Current | 10 to 30 depending on supply Vin | mA |
| Dimension | Value | Unit |
| --- | --- | --- |
| Sensor Case Material | Stainless Steel | - |
| Connection Style | Panel Plug | - |
| Length | 70 | mm |
| Width | 92.5 | mm |
| Height | 27 | mm |
| Weight | 735 | g |
| Parameter | Value | Unit |
| --- | --- | --- |
| Operational Temperature Range | -40 to 85 | °C |
| Storage Temperature Range | -40 to 85 | °C |
| Sensor Seal Rating | 500m (Sea water) | - |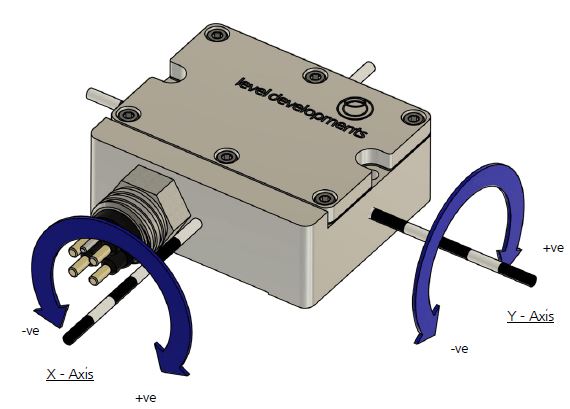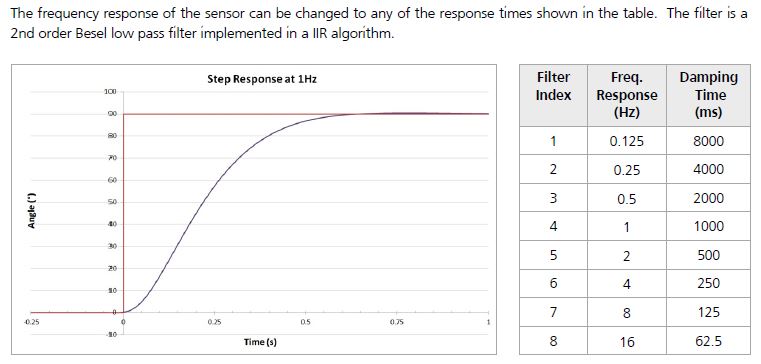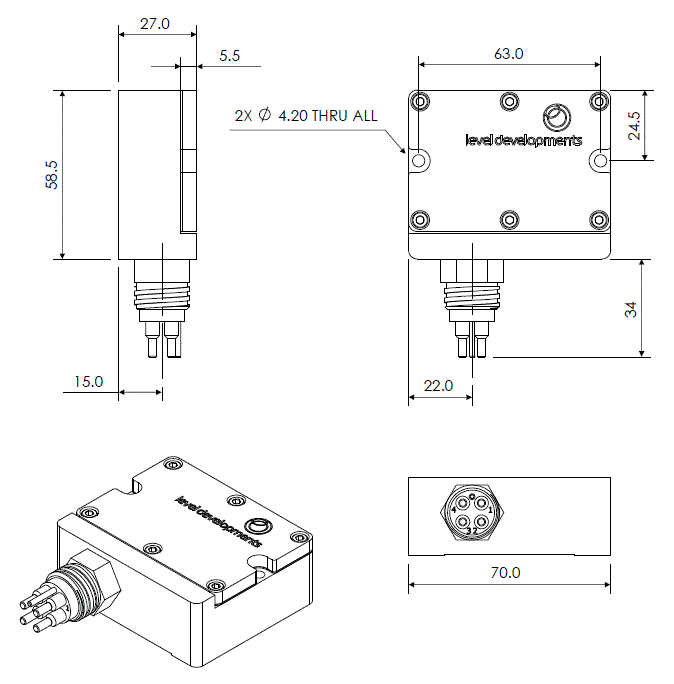 Similar Products