Product Drawing (

pdf

530 KB) 5648/4 – Subsea bullseye level (ball inclinometer), Ø250, range ±3°
These subsea bullseye level and slope indicators are used to level or measure the angle of subsea structures and equipment. They are designed to be easily readable by ROV's and subsea cameras, and have been used successfully on subsea projects down to 6000m (20,000ft).
Features
Background colour eliminates glare for improved visibility from ROV
±3° measurement range, 250mm diameter
Simple mounting arrangement with 3 holes in flange
Type tested to 6,000m (20,000ft)
Scale printed on ball surface to eliminate parallax error
Custom built handles and bases to suit customers application.
Applications
Used on all kinds of subsea structures including:
Blowout preventer (BOP) stacks
Lower marine riser package
Pipelines and Manifolds
Christmas trees and Suction Piles
Product Specification
| Parameter | Value | Unit |
| --- | --- | --- |
| Diameter | 250 | mm |
| Range | ±3 | ° |
| Scale Interval | 0.5 | ° |
| Accuracy | 0.2 | ° |
| Material | Acrylic (PMMA) | - |
| Maximum Working Depth | 6000 | m |
| Ball Diameter | 12 | mm |
| Dimension | Value | Unit |
| --- | --- | --- |
| Overall Diameter | 250 | mm |
| Body Diameter | 210 | mm |
| Overall Height | 41.3 | mm |
| Flange Height | 28 | mm |
| Pitch Centre Diameter For Mounting Holes | 230 | mm |
| Hole Diameter | 8.5 | mm |
| Material | Acrylic (PMMA) | - |
| Weight | 2.3 | Kilograms |
| Parameter | Value | Unit |
| --- | --- | --- |
| Operational Temperature Range | -10 to 50 | °C |
| Storage Temperature Range | -10 to 50 | °C |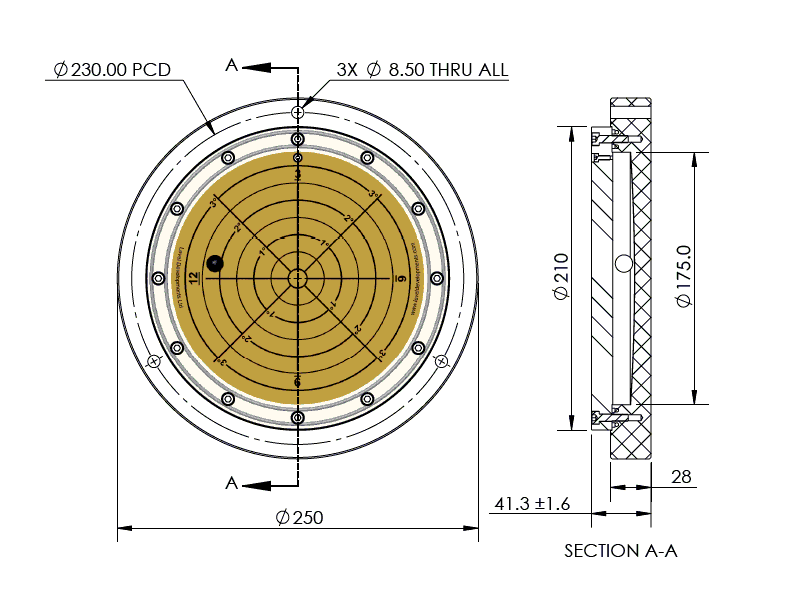 Similar Products