Parabolic Trough Concentrating Solar Power (CSP)
Parabolic trough solar concentrators use a parabolic mirror to focus the sunlight to the focal point of the trough along its length. A liquid filled tube is heated at the focal point to harness the suns energy. The tilt angle of the reflecting mirror is important to ensure it is facing the sun and to ensure the liquid filled tube is always kept at the focal point. These trackers require a high degree of positional accuracy in a single axis configuration. As the inclinometer sensor is mounted directly onto the structure it can provide several advantages over shaft encoders and light sensors:
Reads angle of structure directly so is not affected by mechanical hysteresis
Measures absolute position, including errors introduced by wind loading
Works over wide angular range in all lighting conditions
We can also provide customised designs based on this product with the aim of improving system integration, or to replace an existing product with a directly compatible device. Our expertise and experience in this field means we can offer short development times with right first time prototypes.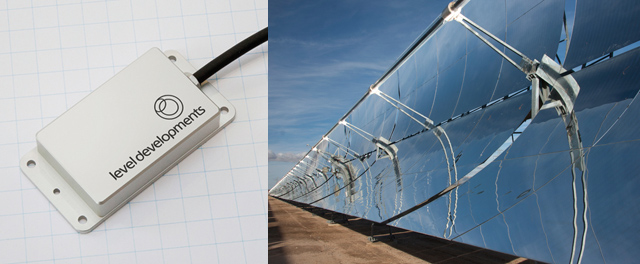 Our SOLAR-360 sensor has been designed specifically for this application and can provide accurate, repeatable and reliable angular position feedback to the tracker control system.
Single axis with range up to ±180° and accuracy options of 0.05° or 0.1°
Temperature compensated to maintain accuracy over a wide range of conditions
RS232, RS485 and CAN networked output interfaces available
CE and FCC approved, IP67 sealed
With our in depth knowledge of the available inclinometer technologies and experience of a wide variety of solar applications, we specialise in understanding your angle measurement requirements and then offering the most cost effective solution
= sort ascending / descending (hold 'shift' and click another heading for multiple sorting)