Photo Voltaic (PV) Trackers
Photovoltaic trackers are used to improve the efficiency of the PV material by positioning the panels perpendicular to the sun's light. Typically a positional accuracy of 0.5° is required for the panels to operate at their maximum efficiency. We have designed a range of inclinometer sensors to provide position feedback to the tracker controller and achieve this level of accuracy.
Single axis inclinometers suitable for single axis and pitch-azimuth solar trackers
Dual axis sensors for dual axis pitch and roll solar trackers
Single axis, range up to ±180° accuracy 0.3°
Dual axis, ange up to ±90° accuracy 0.3°
Analogue voltage, RS232, RS485, USB and CAN output interfaces
We can also provide customised designs based on this product with the aim of improving system integration, or to replace an existing product with a directly compatible device. Our expertise and experience in this field means we can offer short development times with right first time prototypes.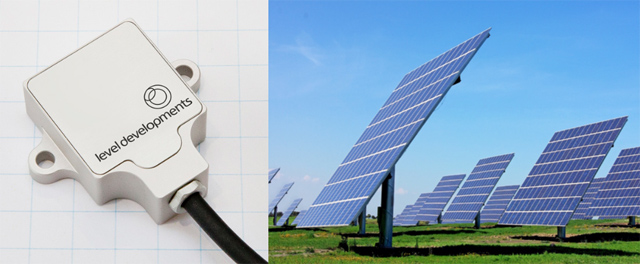 Options include
Custom cabling and connectors
Integration of sensor with control module
Custom interfaces and communication protocols
Custom housings to enable better integration with existing system
Specification matching to replace existing inclinometer sensor
With our in depth knowledge of the available inclinometer technologies and experience of a wide variety of solar applications, we specialise in understanding your angle measurement requirements and then offering the most cost effective solution